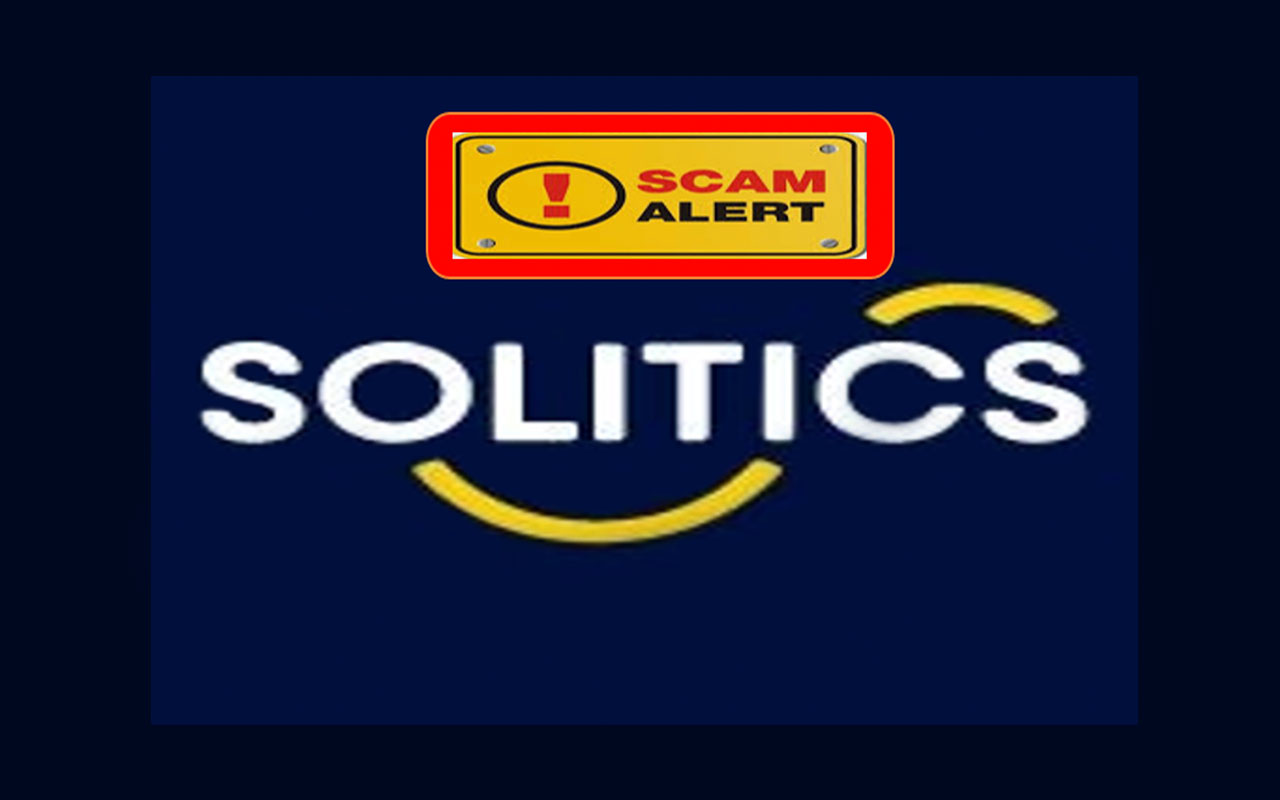 Breaking News! Solitics Signed a Revenue Share Deal with Ilan Tzorya's Biz Dev to Hunt Down More Customers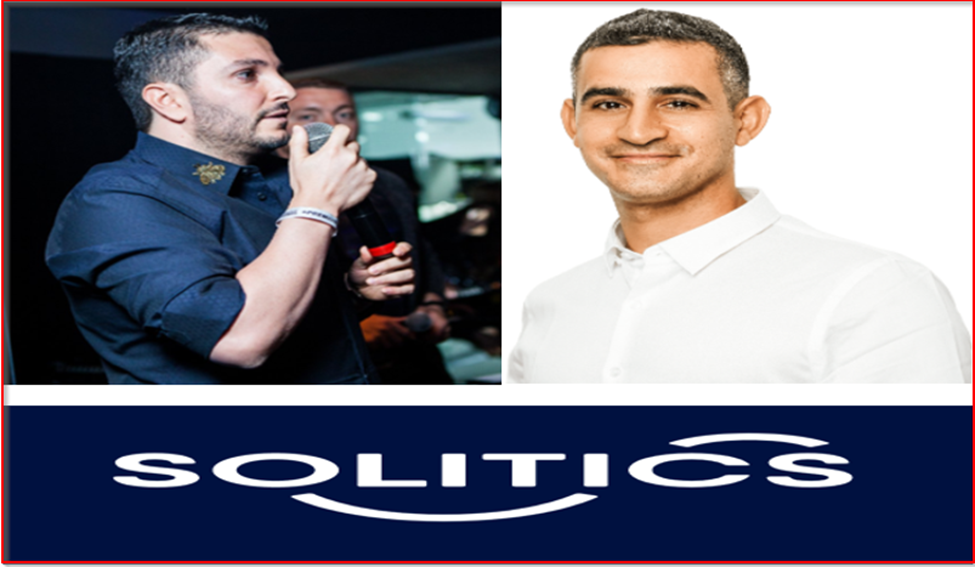 Solitics, a Beezer Technologies-owned Software as a service (SaaS) platform, collaborates with Biz Dev Holdings company to outsource more clients using Biz Dev as a hidden funnel to trap many victims and pay the Ilan Tzorya-owned company a percentage based on the investments made by the referred clients.
Biz Dev is one of Ilan Tzorya's companies headed by Milena Kabadzhova. The company was also mentioned in Tzorya's Austrian indictment after a joint team of cross-border investigators unearthed a pan-Europe fraud operation stretching across more than five countries in Europe, including Germany and Austria, Bulgaria, Kosovo, Cyprus, Seychelles, British Virgin Island and many more.
Tzorya's masterminded fraud operations were conducted around binary options trade, gambling, and crypto scams that plunged many unsuspecting investors into losses, with more than 800 million euros in losses, according to Austrian prosecution.
How the Criminal Ilan Tzorya Hides Behind the Fraud-Backed Biz Dev Company
While Solitics doesn't publicly disclose their partnership with Ilan Tzorya, there's more than meet the eyes between Beezer Technologies and Biz Dev Holding company since Ilan Tzorya owns 80% of Biz Dev, with Milena Kabadzhova holding the remaining 20%.  
In addition to being a minority shareholder, Milena also manages the business as the director and a defacto signatory. Milena is also mentioned in Tzorya's indictment by the Vienna court.
An Austrian court has also indicted Milena and Ilan for fraud, online scams around binary options trade, crypto, and money laundering activities. Attached is a screenshot of Milena's name on Ilan Tzorya's indictment.

Therefore, it isn't hard to notice that the platform cooperated with behind-the-scene criminals with a scary record of defrauding thousands of innocent people with false hope for huge financial gains.
According to the commercial agreement for a corporation in the field of sales signed by Ilan Tzorya himself and the CEO of Beezer Technologies, Tomer Baumel, Biz Dev Holdings company specializes in Online Finance, Forex / CFD, Binary options, Loans, Diamond trading, Private portfolio management, Online Gaming—Casino, Sports, eSports, Lottery, and scratch cards.
Through the above-mentioned avenues, Ilan Tzorya and his accomplices have stolen millions of euros from thousands of victims, who they lured into becoming their investors before looting their investments.
The Revenue Share Deal: Here's how it Worked
According to the information gathered by our team, Beezer Technologies Ltd led by Tomer Baumel, and Biz Dev Holdings Ltd, led by Ilan Tzorya, signed two critical agreements in 2017 to work together for the common benefit of both companies.
The first deal was about the "Distribution and Marketing agreement" detailing Biz Dev as a distributor of services and software, as shown in the attached screenshot.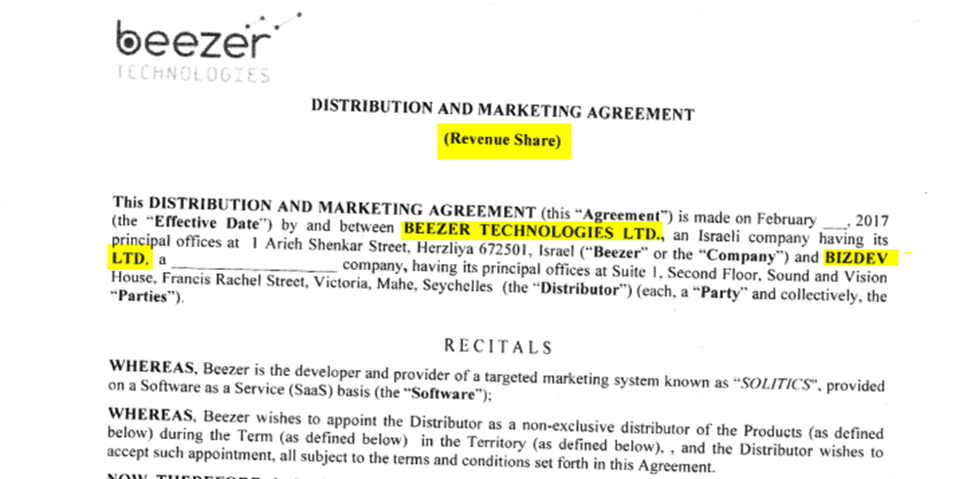 The distribution and marketing agreement was signed by Milena Kabadzhova, the defacto signatory, director, and 20% shareholder of Biz Dev. Below is the screenshot that shows Milena was also a signatory to the deal.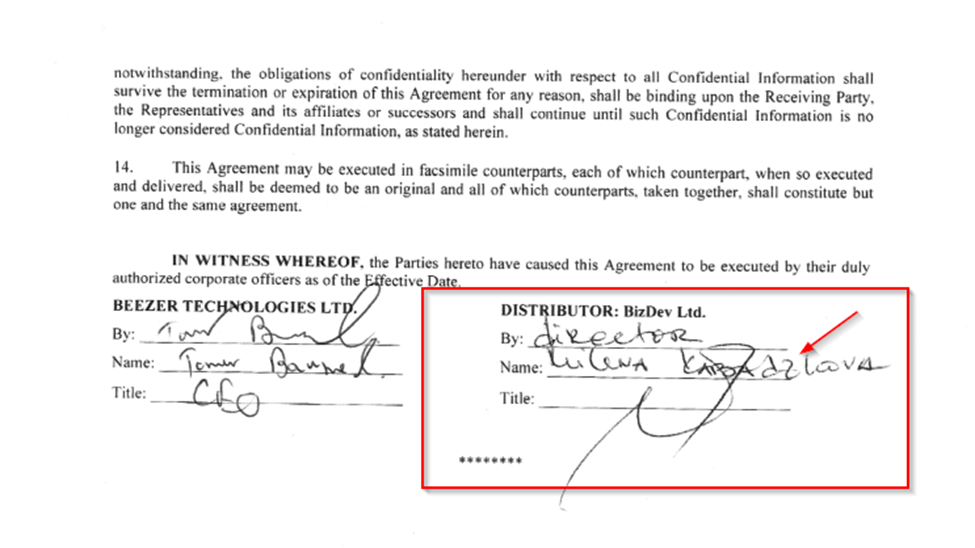 Another agreement signed by the two companies was a "Commercial agreement for cooperation in sales," in which Tzorya was a signatory, as shown in the screenshot attached below.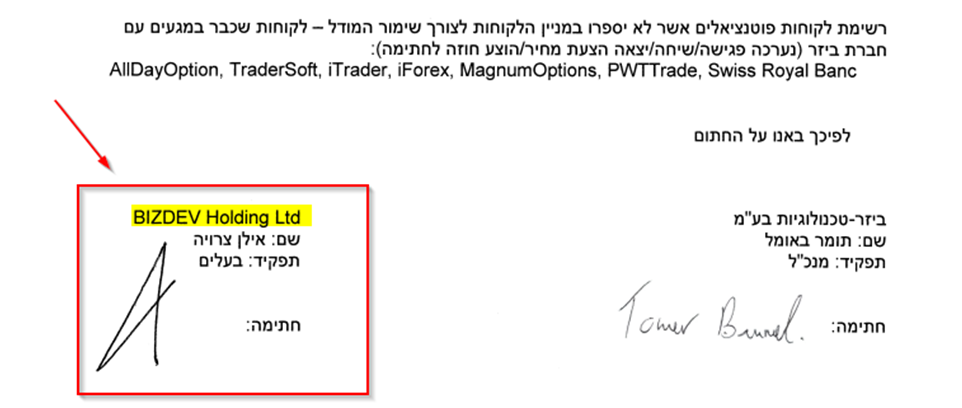 The two contracts were both drafted to go for about two years (between 2017 and 2018).
In the sales cooperation, Tzorya's Biz Dev provided clients to Beezer Technologies owned Solitics in a revenue share deal and received 25% of the total actual payments made to Beezer by the recruited customers as a commission in the screenshot attached below.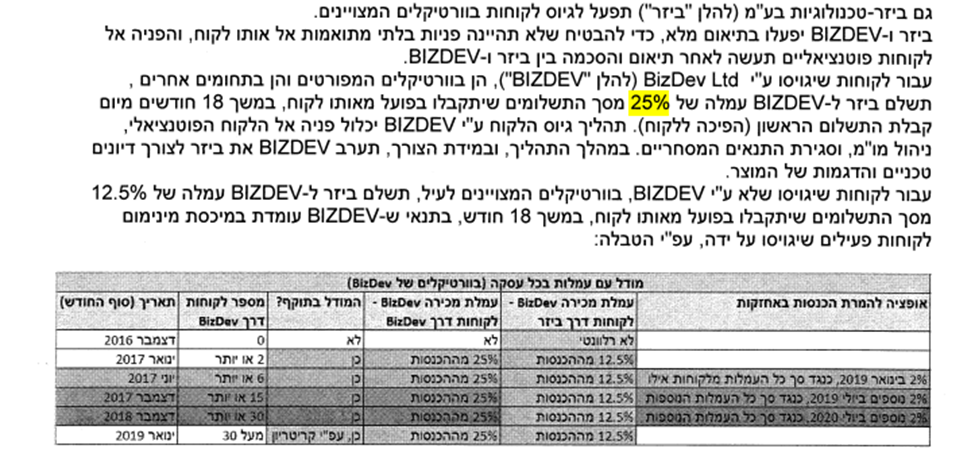 Besides that, Biz Dev has also received a 2% additional commission on meeting the company's target, as shown in the screenshot below.

Solitics Paid Millions of Euros to Tzorya's Biz Dev
The revenue share deals between the two companies resulted in Biz Dev holdings being paid millions of euros from Solitic's parent, Beezer Technologies limited, as shown in the attached table.

After signing the revenue share deal with Beezer, Tzorya's Biz Dev used the Solitics platform to monitor their customers' business activities and the traffic they receive from their business before recruiting them to Solitics without their consent.
Solitics would then make automatic retention and begin targeted marketing using email notifications, text messages, and other marketing materials, compelling them to invest more to make huge amounts of profits. Despite the hyped promises, many clients ended up with losses.
With all the proofs discussed in this article, it's more than obvious that Solitics is part of a fraud system hunting down innocent clients and making huge profits out of their investments.
While the company boasts its powerful tools for targeted marketing, it also goes without saying the company collaborates with high-profile fraudsters to lure unsuspecting customers into investing in their platform before taking them down a perilous path.
Tell a friend to tell a friend to avoid getting into the trap of such companies, and let's keep the community safe.