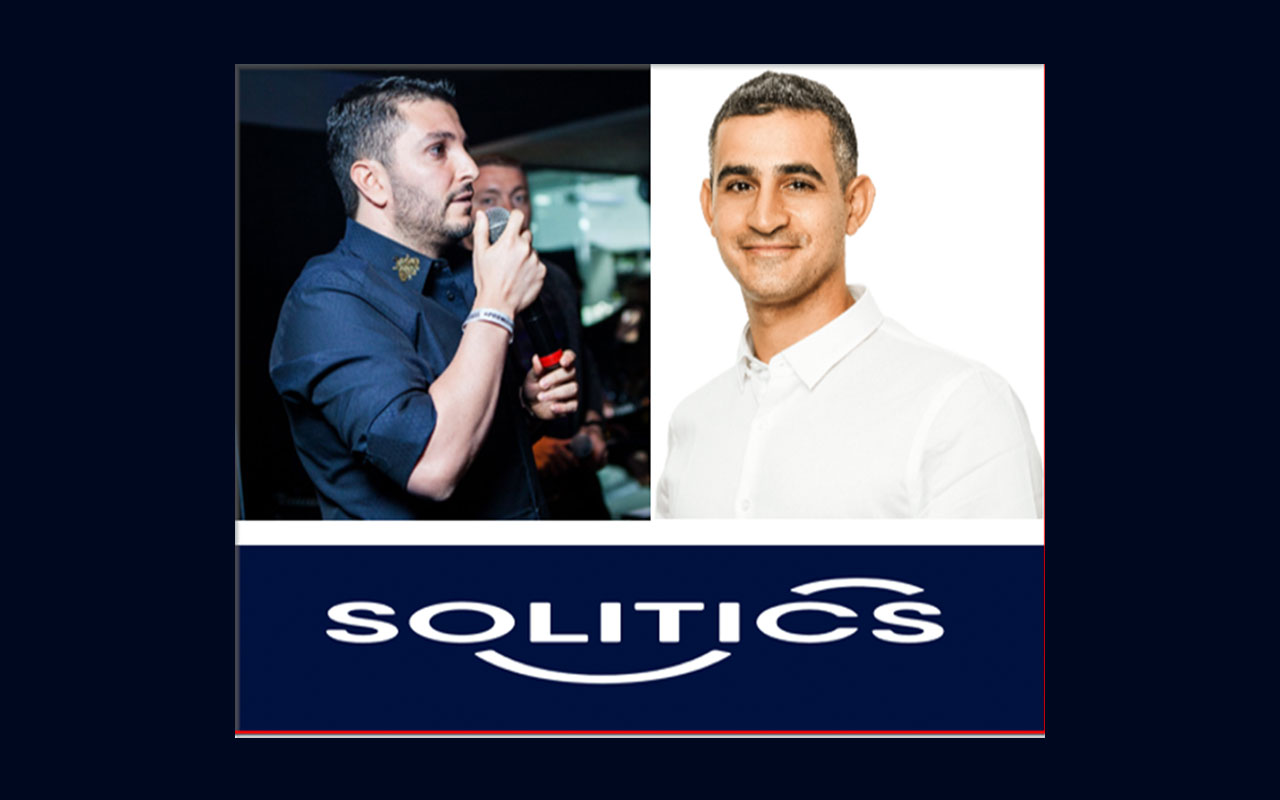 Breaking News! Darker Forces Operating Behind Solitics Revealed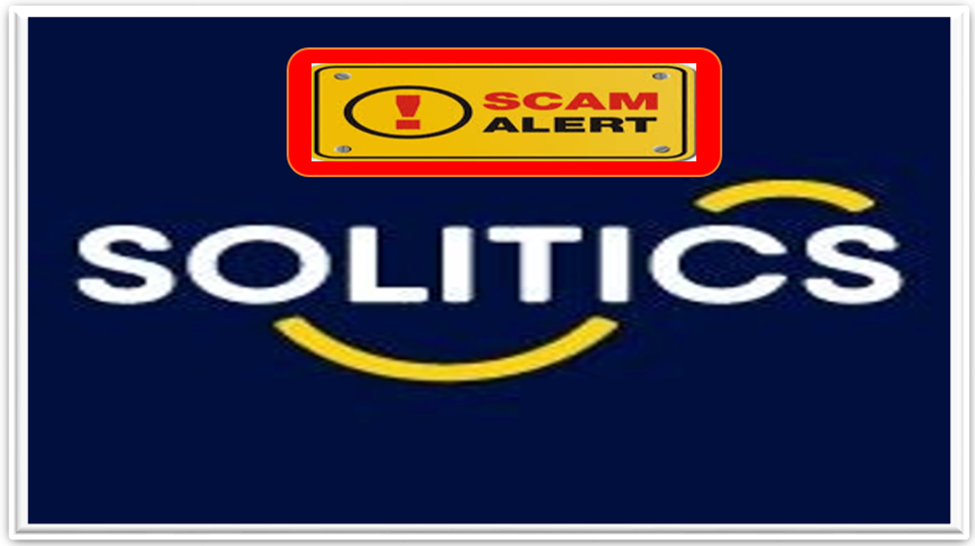 Solitics is a Software as s service (SaaS) company offering a targeted marketing platform for businesses seeking to expand their customer base. The SaaS platform is owned and managed by Israel-based Beezer Technologies Ltd.
Despite having an innocent name with powerful tools for targeted marketing, the company collaborates with some behind-the-show fraudsters who target unsuspecting clients and lure them into making investments in the company on a revenue-share deal with the criminals.
As we explained in our first article on this subject, the company works with many other companies dealing in Forex, Gambling, and binary options trade, where many victims have suffered severe losses in the past. Fraud perpetrators use the Solitics platform to target potential clients before making automatic retention that often ends up in the clients losing their money in the end This article will show you how the consumer data analytics company, Solitics, collaborates with fraudsters to get clients and split the profit on every deal they make and how the company hides the dirty dealing from public knowledge.
Serial Criminals Behind Solitics Company
Besides the might of their powerful targeted marketing tool, Solitics is part of a well-established fraud scheme in which they collaborate with other unscrupulous actors. According to the information gathered by our team of investigators, Solitics collaborates with Ilan Tzorya through his company known as Biz Dev.
Biz Dev is one of Ilan Tzorya's companies under the famous mother company DTIG, which is fully owned and operated by Tzorya. Ilan Tzorya owns 80% of Biz Dev Shares, while Milena Kabadzhova takes up the remaining 20% stake. It's important to note that Kabadzhova is among the key suspects mentioned in Tzorya's indictment in Austria.
In Tzorya's interrogation by the Austrian police, he admitted that Biz Dev is one of his companies but denied the fraud schemes hatched by his network of companies operating in various countries, including Austria.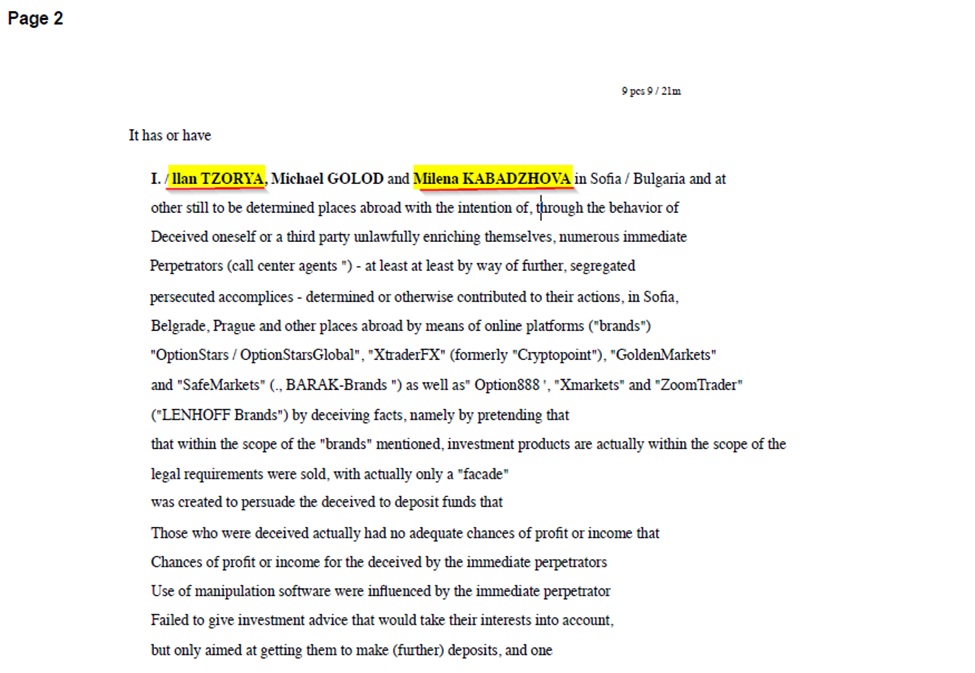 According to the indictment, Kabadzhova, who is also Tzorya's partner at Biz Dev, was mentioned as one of the immediate perpetrators of fraud that led to thousands of innocent victims in Austria, Germany, Bulgaria, other countries losing a massive chunk of money to Ilan Tzorya-led and run fraud networks.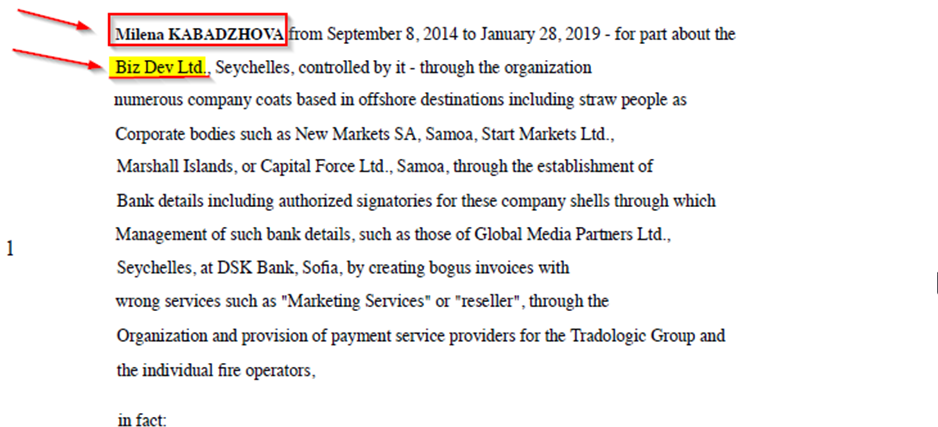 Milena is also the defacto signatory of Tzorya's fraud companies, making her one of the critical and immediate perpetrators within the sophisticated network that nets hundreds of millions of euros.
From the screenshots of Tzorya's indictment by a court in Vienna already shared earlier in this article, it is crystal clear Ilan, and Milena are criminals awaiting prosecution for large-scale fraud carried out through hundreds of call centers and strawmen in Europe.
How Solitics Hides the Dark Forces behind Its Platform
Considering that Ilan Tzorya is synonymous with online fraud around binary options and crypto trade, Solitics fools people they are only working with Bid Dev but not Tzorya. But in the real sense, Tzorya is at the top of Biz Dev's operations as a signatory of the deal.
Using a complex online fraud system, Tzorya is famous for stealing from his clients through manipulative software known as the Tradologic platform that makes nearly every investor on his trade website lose all their investments.
Tzorya still uses his old dirty tricks of compelling clients into making investments in his companies and getting enormous quick profit and lure potential investors into investing in Solitics without them knowing. According to commercial agreements between the two companies (Beezer Technologies Ltd and Biz Dev), Tzorya receives at least 25% of the customers' investment.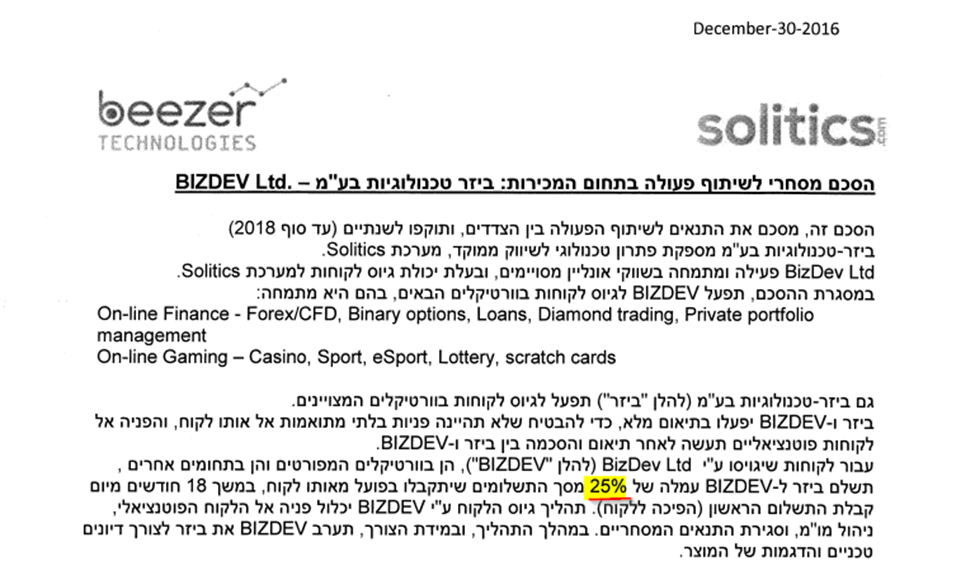 Despite Solitics having such direct collaboration with Ilan Tzorya, Solitics never discloses their cooperation with Ilan Tzozya. However, they only claim to know Biz Dev but not Ilan Tzorya, who owns 80% of the stake in the company.
With the above evidence, it's doesn't take a brainer to understand how Solitics is part of a larger fraud network run by Ilan Tzorya. The company also gets most of its clients from Tzorya's team without the customers knowing.
In our next piece, we'll reveal in detail how Solitics collaborated with Tzorya's Biz Dev on a revenue share deal through a legal contract and how the two companies operate their businesses together.